End of winter makes me a little sad, always. Fresh greens, peas, oranges, kinnows, strawberries, sweet potatoes, my most favourite Kali Gajar or purple carrots, and so much more starts fading away from Sabzi Mandis across Delhi. On a similar note, Chef Vikramjit Roy of Tian – the Asian Cuisine Studio, celebrated the end of the season by creating dishes from the same old ingredients using new/multiple techniques, pushing culinary boundaries and of course with plating that was imposing.
Chef Vikramjit thinks like a chef and executes like an artist, a rare combination, which makes me call him India's Heston. His love for contemporary art gets reflected in his plating, evident from the pictures that follow. This food pleases the palate and looking at it is ever so joyful!
Name: Kimchi Dragonfly
Elements: dehydrated cabbage kimchi (in wings) | chestnut puree | potato confit spiral | aka miso|kochujang gel.

Name: The Grass
Elements: Pink grapefruit | smoked almond milk | toasted amaranth seeds | fermented romaine & arugula lettuce |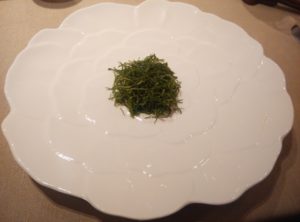 Name: Asian Mole Wind
Elements: corn cakes l tomato powder l kafir lime yoghurt l pistachio powder | Mole Sauce 
Name: Transition
Elements: eight textures of onion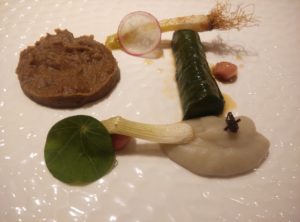 Name:Sleep
Elements: vanilla panna cotta l white chocolate egg shell| thai chili yolk l valrohna chocolate nest l grilled marshmallows l sand & powder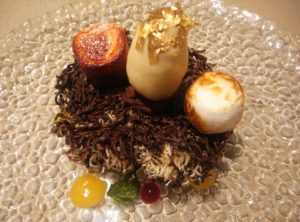 And I cannot leave you all without my most favourite creation of chef Roy. Do follow him on Instagram.
The vegetarian and non-vegetarian dishes for the End of Winter menu mirrored each other. Very gratifying to me as a vegetarian, who often gets mocked at being a food-blogger/writer who doesn't eat non-vegetarian food.