When restaurants introduce patrons to a new cuisine, sometimes they are forced to Indianise it by adding some chillies to suit the local palate. When pop singer Anaida decided to host a pop-up with the chefs at SodaBottleOpenerWala, she was clear she would not add chillies to the food as Persian food is non-spicy yet very flavourful.
Here are some facts about Persian food & ingredients, before you move on read more about what I ate:
Persian food has mostly meat-based but dishes like Osh-e-reshte and Baghali Polo are vegetarian.
Iranians love their rice. They remove starch by half cooking the rice and then dum-cooking it.
Kashk a dried yogurt derivative is widely used.
Rose petals and rose water are widely used, though the variety of Iranian roses used in cooking makes all the difference. These are grown only in certain parts of Iran. The roses are small and petals thin which is why they are sweet and can be simply plucked and eaten.
Pomegranate molasses and pomegranate seeds are used. So are fried onions, fried garlic, plums, apricots, raisins, saffron, cinnamon, sumac and fresh herbs that are at the heart of Persian cooking.
Dried black lime or Omani limoo is a dried lemon used as a powder or even sliced to add a sour note to the dishes. It is used to flavour soups and stews.
Ghee is combined with mint powder to flavour stews.
Skeeter sampled some delicious fare at Anaida's Persian Pop-up at SodaBottleOpenerWala, Khan Market (on till 30th April, 2017) as she chatted with the multi-talented artist about her experiences in food workshops, meditation and curation of this particular pop-up, in particular. We sampled Osh-e-reshte, a hearty Vegetable and Noodle traditional Iranian stew which is made with red beans, chickpeas, vegetables and wheat noodles. It is flavoured with Kashk (dried yogurt derivative), garnished with fried onions, fried garlic and ghee tossed mint powder. I know what to make next winter when I crave easy peasy, filling and flavourful soups!
Next up was the Kashk-o-Bademjan or Anaida's super tasty eggplant roll. Self praise much or no? Well, it was super tasty enough and rightly christened. This one is Anaida's take on the traditional Iranian eggplant dip called Kashk-e-Bademjan. The dip comes wrapped in soft rumali to make a roll. The rolls are served with fried onions and one can't stop munching on those. If sharing, they make for a snack, if not, they could make for a meal! Eggplant lovers will heart this one.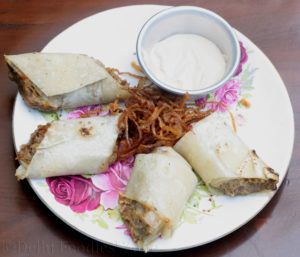 For mains we had Shiitake Fesenjan or Shiitake mushrooms cooked in pomegranate molasses along with walnuts and garnished with pomegranate pearls. This specialty from Iran is usually made with poultry (chicken/duck) and sometimes meat, but at SodaBottleOpenerWala, a vegetarian version was developed for this pop-up. We had it with Baghali Polo or Dill-scented flavoured rice with nutty-buttery Fava beans.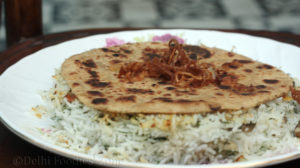 Dessert was Persian Halva cooked with ghee, wheat flour and rose water and flavoured with cinnamon, nuts and garnished with rose petals. Skeeter couldn't taste cinnamon in this one, though it did have a slight aroma of rose water. It was more like the North Indian atte ka halwa or even kadah prashad minus the extra ghee (in a good way).